Otter photography and guided experience.
It's Otter Magic!
Full Day (6hrs approx). £150 per person.
Group discount available.
Welcome to my Otter photography and guided experience in Scotland. If you love watching wildlife in it's natural habitat, then you won't want to miss this full day photography and guided tour on the West Coast of Scotland. Gillian of Shutter Release will expertly guide you throughout this tour. What can be better than observing an Otter in it's natural habitat? For this exhilarating wild and exciting of opportunities you'll have the chance to both photograph and watch in detail, Otters in their natural habitat, surrounded by beautiful coastal scenery. We visit at least one Otter territory where we wait, watching and ready to photograph one of Scotland's finest animals.
Whether you're looking to capture that perfect shot or simply enjoy the beauty of Scotland's natural environment, this tour is perfect for you. Don't miss your chance. Join me on an incredible journey and capture the beauty of Scotland's Otters, etching it both in your memory and through your lens. Book your spot now.
To protect the Otter- its welfare is of paramount importance - this tour is for a maximum of 2 people only.
Although our locations are well researched throughout the year by
Shutter Release, the otters can be incredibly unpredictable and elusive. We will do our utmost but as such we cannot guarantee sightings.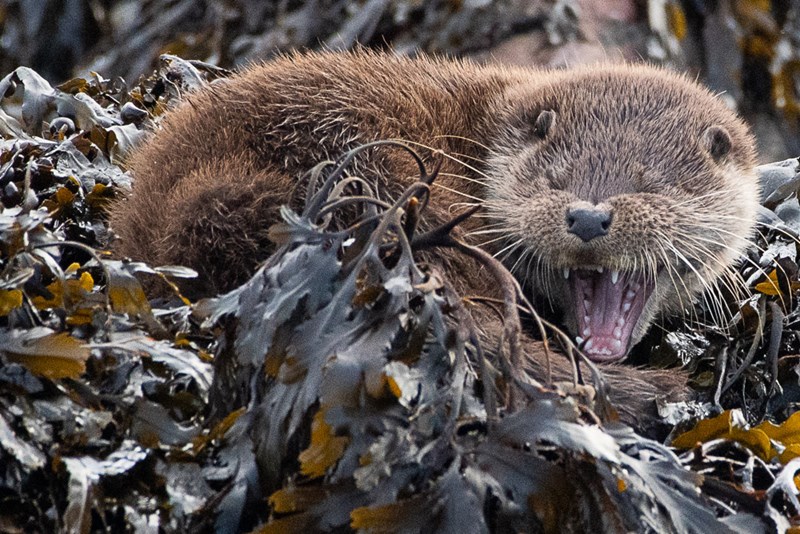 This tour runs Thursdays from the 29th June 2023. Book now.
What Camera equipment will I need?

Bearing in mind the Otters safety, although we can usually get relatively close, ideally you would require at least a 400mm lens or equivelant.

What do I require to bring with me?

For full details please click the section "what will I need"

Can I come on this Tour just to get the opportunity to see an Otter in its natural environment?

Absolutely. Yes!